Throughout the school year, there are lots of opportunities for children to join a variety of clubs.
After-school clubs are provided by a combination of staff and external companies.  A small fee is charged for some clubs.
Over the course of the year the following clubs are available.
Ocarinas and Recorders –
Children are invited to join ocarina club in year 1. This instrument is a fantastic stepping stone for those children who wish to progress to a recorder.
Recorder clubs run for children from year 3 and are generally held on a lunchtime. More information can be obtained from the office if you wish your child to start classes.
Choir –
Mortimer Primary has a very successful school choir. They have performed at Durham Cathedral and are often asked to perform for groups within the local community.
The choir is open to children from year 3 upwards, please contact the office for more information.
Guitar Club –
We have various guitar clubs in year 5 and 6. More information is available on request from the office.
Wake up! Shake up!

Wake up! Shake up! is a before school exercise class for children year 1 upwards, sibling links from reception may also attend with their brothers and sisters.
It is specially designed exercise program that is said to get children ready to work and learn.
Sessions are held on a Tuesday and Wednesday morning at 8:30 am, children meet outside the main entrance to the school. At the end of the session the KS1 children go straight to their classes and the KS2 children line up in the yard ready for the start of the school day. Children may attend whenever they wish and as often as they wish.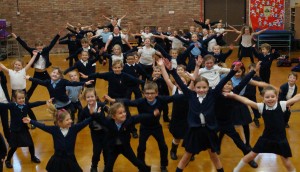 Art and Design Club
An art and design club is open to children in Y4, the children create seasonal items but also create crafts to sell and make money for resources at the school fayres.
Cricket, Football and Netball Teams
Mortimer Primary have separate cricket, netball and football teams. Children are invited to trials for all teams when they are in year 5. For more details please contact the office.
Spanish Club
Spanish club is available to children in Y3 and Y4. Pupils pay to attend this club, classes are available on two different evenings. Ask at the office for more information.
Lego Club
There is a KS1 and KS2 Lego club which work at various times during the year. Children  in Y5 are invited to apply for a place on the KS2 club during the Autumn Term and compete against other schools in the First Lego League Competition.
Y2 Children are invited during the Spring and Summer Term to join the Lego club and work with the older team to complete a project ready for competitions against other schools.
Science Club
Ten Year 2 children are invited to attend a science club during the Autumn Term to explore and experiment in a fun environment.
Engineering Club
Children in Y6 are invited to apply for a place on our prestigious engineering club. Children work with an experience engineering leader and teacher and enter competitions. This club runs throughout the year.
Maths Club
Children in Year 6 are invited to apply for a place to represent the school in The Young Mathematician of the Year Award. This normally takes place in the Autumn Term.
Techy Tots
Coding and computing for Reception and Year 1 children. This is a club which children must pay for, it takes place on a Monday evening after school and places are limited. Booking essential. Ask at the office for more details.